Shervin Adeli knows all too well that the longevity and success of a footballer's career is determined by the decisions they make.
A futsal player by trade, Adeli's career has taken a non-traditional route when compared to other Australian footballers.
Growing up in an Iranian-Australian household fostered Adeli's love of futsal and assured his aspirations for a career in football.
"In Iran you play a lot of street soccer and small sided games, so my dad had a big interest in futsal from that because that's all he ever knew."
"I'm good friends with Daniel Arzani, we used to play a lot together when we were younger when our dads would be playing outdoor or futsal. We would always be on the side kicking the ball around."
"To this day, any time I can get on a small sided field I'm there. Whether it is with my friends from a local team or my dad's old mates, I get down there and play."
In terms of what a football player can gain from investing their time into futsal, Adeli is full of praise for the sport, where quick-thinking and unbridled trickery is valued above everything else.
"From futsal you definitely learn decision making. You always have less time on the ball because it's a smaller court so it is easier to apply pressure. In football, if the ball is on the other side of the field you can have a rest and switch off in a way.
"In futsal though its non-stop up and down. Close control is important as well; if you're not good on your feet and not good at control then futsal becomes very hard."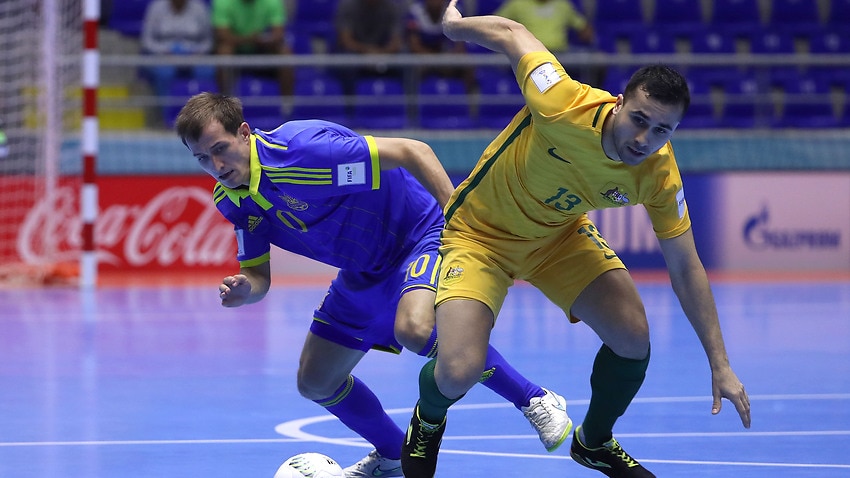 At just 18, Adeli earned his stripes with the Futsalroos at the AFC Futsal Championship in 2010. He went on to represent Australia at the 2016 Futsal World Cup, as the side faced the challenge of toppling a group that contained Ukraine, Mozambique and Brazil. The South American giants and current number one ranked side in world futsal were to pose the biggest challenge for an Australian side lacking real preparation ahead the tournament.
"Tactically we thought we could beat Mozambique and get a result against Ukraine. Against Brazil, we fight and do our best. If we had more resources and more time together, mainly just someone to give us some extra help ahead of a World Cup, it would go a long way."
"For them (the Brazilians) they have played futsal all their lives. They get paid to pay futsal, they travel the world for futsal and they have a professional league. For us Australians, most of us had jobs working as plumbers or electricians. We're playing futsal part time and to come up against them and go to battle was a good achievement for everyone involved."
"Futsal in this country doesn't get what it's deserved. There is a lot of discrepancy about where futsal is going and why it hasn't been given more acknowledgment. You've got players like Daniel; Tommy Rogic who was in my team at the Asian Cup in 2010; (Massimo) Luongo, who all played a lot of futsal and they don't get acknowledged for it."
"It is hard for us especially in Australia (to compete) because we are probably the least futsal-focused country in Asia. A lot of other Asian countries do a lot of mini tournaments, camps and preparation, whereas we just train 1-2 days a week or a couple of months before and go to a tournament and try and do our best. If we had extra preparation and support, we would do a lot better."
Prior to returning to the Tigers for this season, Adeli was introduced to the dynamic world of Italian football.
"[The experience in Italy was] unbelievable. Even in division five we had some teams and players who had played in Serie A or been juniors for Serie A teams. You can just see the way they touch the ball and the way they run is a different level. A lot of the clubs we played against were ex-professional clubs who had been relegated to division five and they still have the same stadium. So you're playing on fields that Serie A players have played on once.
"That's the thing in Europe, a team could be in division five and in a couple of years division one. Being around that sort of environment was unreal. Some teams have a massive heritage, culture and fans and so even though they're in the lower leagues that's what they look forward to. And it was all televised and covered by the media. Over there you breathe football and that's it."
No doubt a familiar face to Tigers fans, it was Adeli's match winning brace that secured the Tigers their 2015 Grand Final win, a moment and season Adeli looks back on with fondness.
"It was probably one of the most unbelievable moments of my outdoor career. Like Bonnyrigg, Tigers to me has always been home. From the first day I came to Tigers I felt very comfortable as it's a fantastic environment and culture. That was my second year there and the boys from the first year stayed so we had kept the core of the group. I think with football it is about timing as well. We went on a good run towards the end of the year and we felt we could beat anyone anywhere.
"In those games you just want to win it doesn't matter who scores you take it. Personally, to win the game like that I couldn't be happier and it's something I keep close to myself. Whenever I'm feeling down on confidence or motivation, I have a look at that and get excited and try to replicate it."
For Adeli and the Tigers, their shared ambitions going forward are unchanged in spite of the delays caused by the COVID-19 pandemic.
"For me promotion is the only ambition. I want to play in the highest level possible, so NPL 1 is where I'd like to play, unless I can be a part of a team like the Tigers who are playing to win. When I left Bonnyrigg, I made sure that mine and the club's ambitions were to win. When we were training everything was about winning and trying to get promoted.
"I don't want to be at a club where everyone is comfortable and happy to be where they are. My mentality now is that I need to be challenged and pushed. I don't like to feel comfortable on the field even if there's someone training or playing better than me it motivates me to do better and always fight."
And for Adeli, being at the Tigers not only complements his winning mentality but his desire to impart his knowledge of the game on to Australia's bright young talents, having taken up the opportunity to coach the U11s squad and help to oversee the U12s, U10s and U9s on match day.
"Last year with my kids I was doing a lot of very high intensity sessions, as SAP is meant to involve the best youngsters in the country. I encouraged a lot of flair and I told the kids that I want to see creativity. If it excites me, then that's what I want to see. Obviously, you don't do flick overs and backheels in front of your own goal, but when you get in to the attacking third I ask them to entertain me and the crowd."
"I think Tigers do a fantastic job with football. With the youth and the setup, and with Jason Eagar there for a long time he has the club in the right direction, so it is good to be a part of the junior setup."
"Last year was good as well, a lot of the kids would watch me play NPL 2 and they'd hold me accountable. If I did something well, they'd want to know how to do a certain skill or celebration and that bit of back and forth is only positive."
"If they score, I encourage them to go crazy and celebrate. High five their team, their mum, whatever. If you score the whole team should celebrate, treat it as a reward."
"If you're going to train or play, do it with passion."
Written by Matthew Badrov.